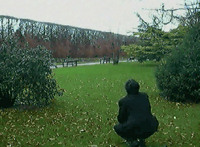 Roshini Kempadoo - selected CV
"As a photo artist who uses technology to critique and examine issues such as identity and representation, Kempadoo is aware of the dominant influences that have created cultural distortions and mythologies. Her interest in cultural history leads to powerfully composed fragmented images of the past that explore social issues. She writes 'My work is reflective of issues and attitudes that constantly position us - as black individuals, as black communities. Colonial history was at its simplest about slavery, genocide and dominance of one country over several others for political, religious and above all, economic gain. At the very core of my work therefore is a visual mapping and exploration of such history, stories, place and environment. As an image producer with a background of documentary photographic practice, I make use of photography's unique alliance with notions of reality and representation.'"
Deborah Willis. Curator, Center for African American History and Culture, Smithsonian Institute, Washington DC. 1997 . Taken from Roshini Kempadoo – Autograph Monograph. 1997. London UK.
Roshini Kempadoo is a freelance digital photoartist. Her work uses digital technologies to explore visual anthropology, contemporary use of photographic archives within network environments and mapping colonial history, stories and locations. She also lectures at Napier University, Edinburgh in digital photography and has degrees in Visual Communication and Photographic Studies. A selection of her recent exhibitions include: 'The Future Looms' Internet artwork commission. 'Prejudice and Pride' at the Pitshanger Art Gallery, London. (1998) 'Transforming the Crown' - The Studio Museum, New York; 'The 90s: A Family of Man ?' Forum d'art Contemporain, Luxembourg; 'Translocations' at The Photographer's Gallery, London; 'TechnoSeduction' the Cooper Union Art Gallery, New York (1997). She has presented work at many international conferences including ISEA (International Society of Electronic Artists) in 1998 (Liverpool) and 1997 (Chicago). Publications of her work include: ''Roshini Kempadoo' available from Autograph (London) 1997. ''Photography in the 1990's' - CD-ROM by University Art Galleries, Wright State University, USA. Perspektief Magazine November Issue 1993,The Netherlands.
Roshini Kempadoo - March 2000